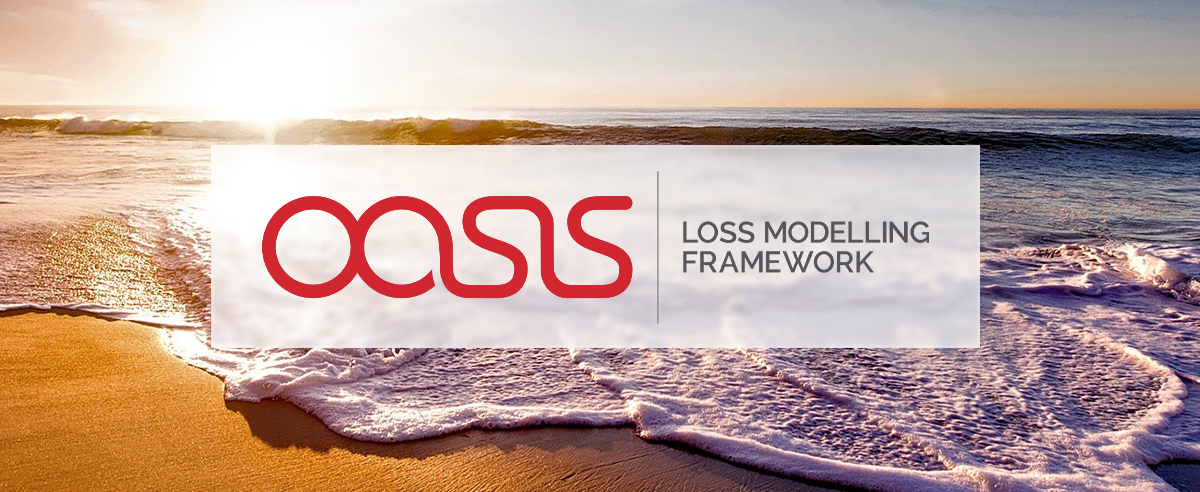 Hello Everyone,

Oasis has always had a determination to challenge the status quo when progress has been too slow and market forces have proven to be insufficient.

We have used the tools of collaboration and the latest technology deployed with speed as our strategy and weapons of choice. We are gaining ground on interoperability with the Insurance Development Forum (IDF) and lately with the new Lloyd's Lab project, and we have new software releases including a fancy user interface. And, for more choice, we have a new partnership with technology gurus QOMPLX.

We are about deep collaboration, knowledge mobilisation and choice. Please engage with Oasis and its partners for the benefits of all.

Enjoy the read in more detail - we have lots to tell you - and please do get in touch if you'd like to discuss anything further.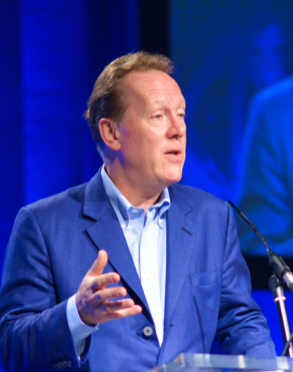 Dickie Whitaker, Chief Executive - Oasis Loss Modelling Framework
---
MUCH ADO ABOUT TECHNOLOGY
The Oasis development team has been busy in 2019. Based on feedback from our community and the team's experience of supporting the platform in production, we have consolidated the architecture and added significant new functionality. Noteworthy areas of work include: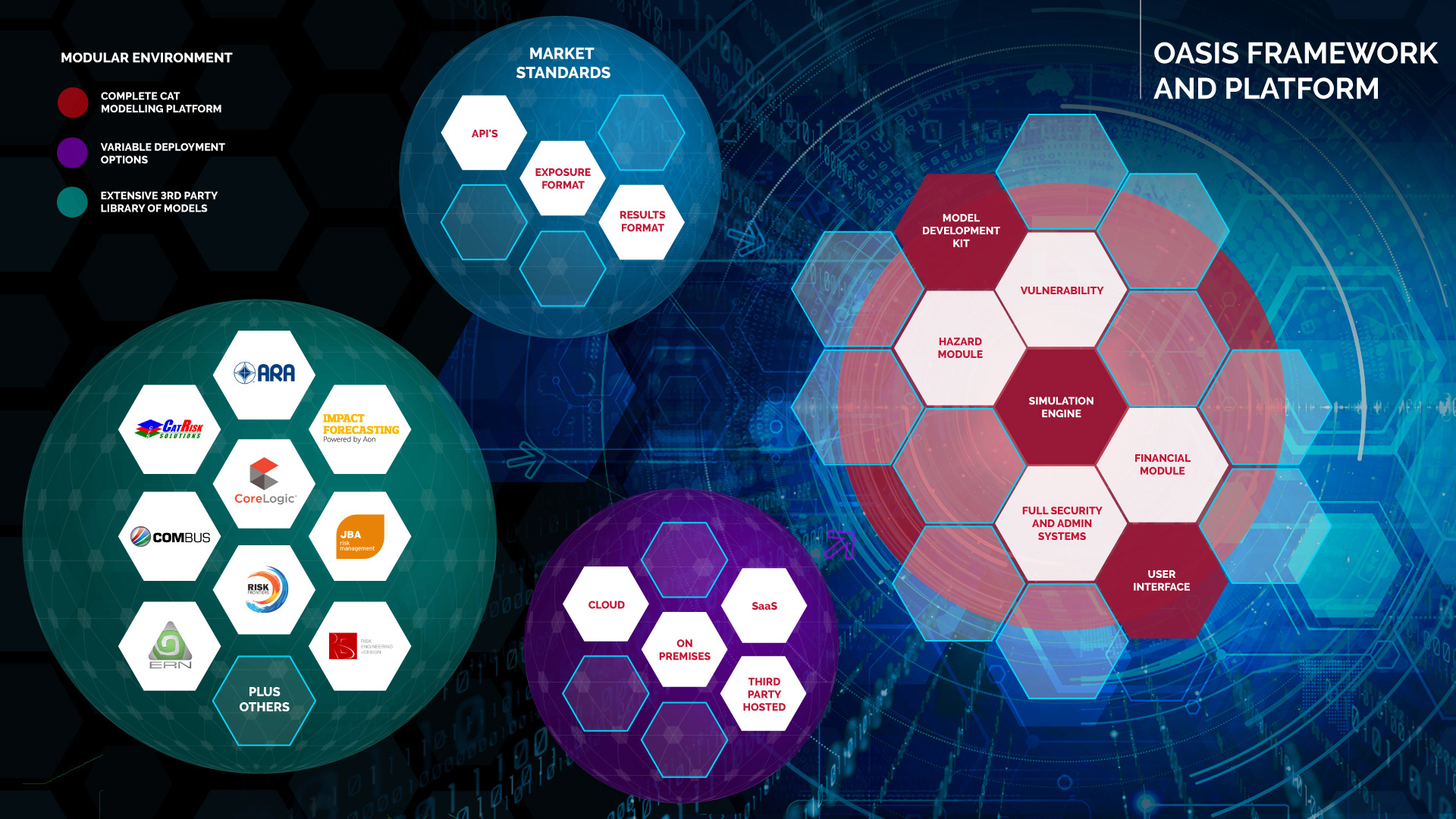 1. API
The Oasis platform now has a full API built to the latest technology standards. The API can automate all steps in model execution – uploading exposure, verifying exposure, running the model, retrieving results – and provides interoperability with other systems.
2. Financial Module
The platform now has a fully featured financial module for both direct and reinsurance contracts. All exposure information is entered using the open OED data format, allowing a wide range of financial terms and conditions to be accurately captured and modelled.
3. Easy Install
We pride ourselves on the platform now having a clean and simple architecture that can both be installed on a single server for evaluation, or on a cluster for full production systems.
4. New Oasis User Interface
The Oasis user interface has been completely rebuilt, with a clean look and feel and intuitive workflow. The new user interface simplifies model run processes, results viewing and export, and in particular is intuitive for both cat model experts or novices.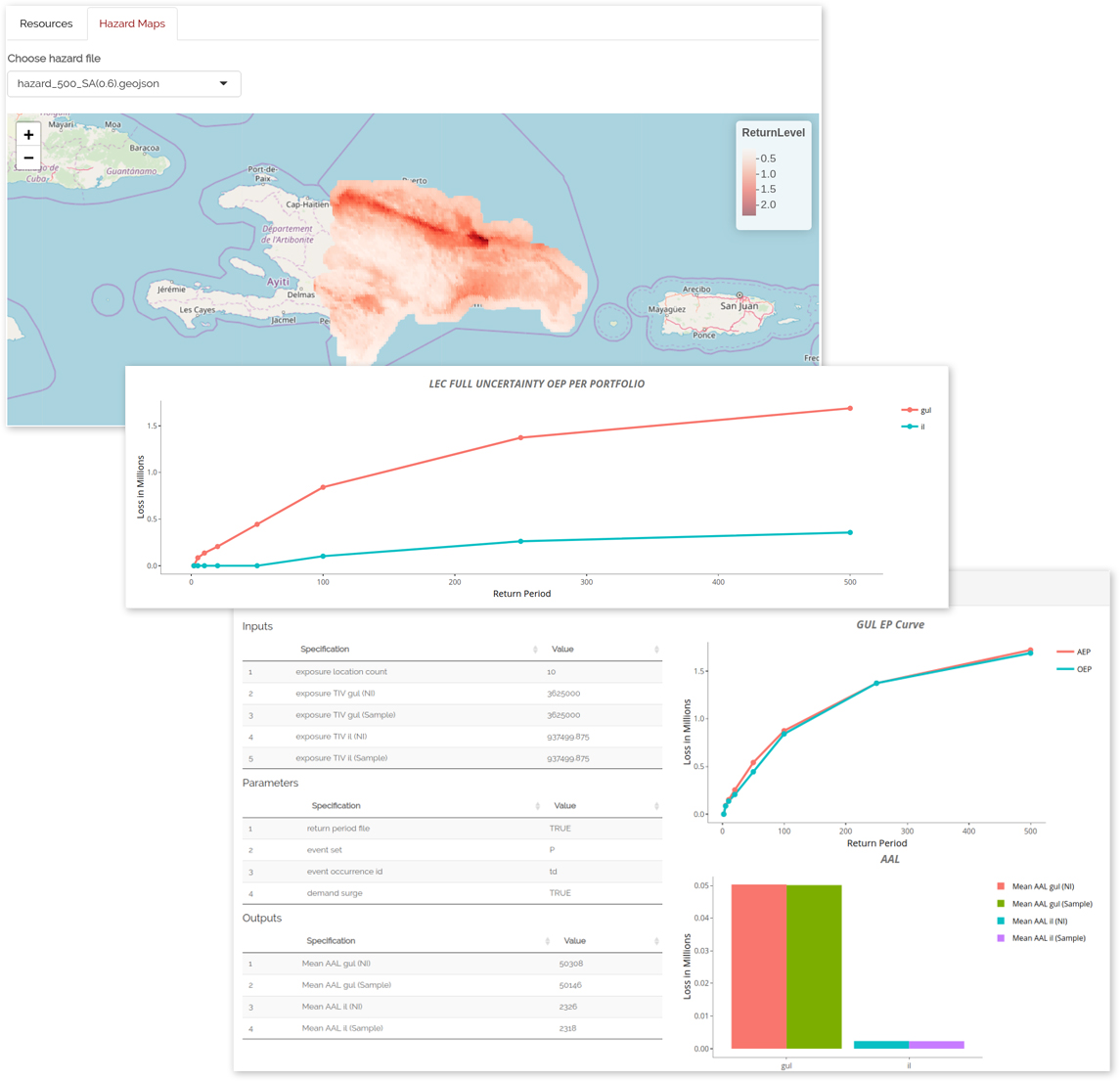 5. Complex Model Support
"Complex models" have their own methodologies and/or existing legacy code implementations. The Oasis platform can now support complex models alongside models that use the standard Oasis hazard and vulnerability structure and sampling approach. This has been an important feature for some of the latest models being added to the platform from CoreLogic, JBA and RiskFontiers.
Coming Next
In the coming months, we will be exploring how Oasis can be installed in the latest enterprise systems to operate robustly at scale. We will also be looking at how to provide results and analysis meta-data to provide easy interoperability with other risks systems.
Try It Out
To try out the latest version, we have developed a guided easy install. This will launch a full version of the platform on a single server running our example PiWind model. This is available on GitHub, here.
---
THE WAVE ROLLS ON
The Wave is an international project with the aim of creating more openness, interoperability and lowering the costs of risk modelling and data.
Born from an upswell of support for open-source, cost-effective technology, we are a community of international stakeholders across industries which champions interoperable, global and cost-effective risk modelling and data solutions.
Our mission is to collaborate and pool our resources to offer the most cost-effective way of understanding risk.
Oasis has created an offer on models that were launched at the Oasis London conference: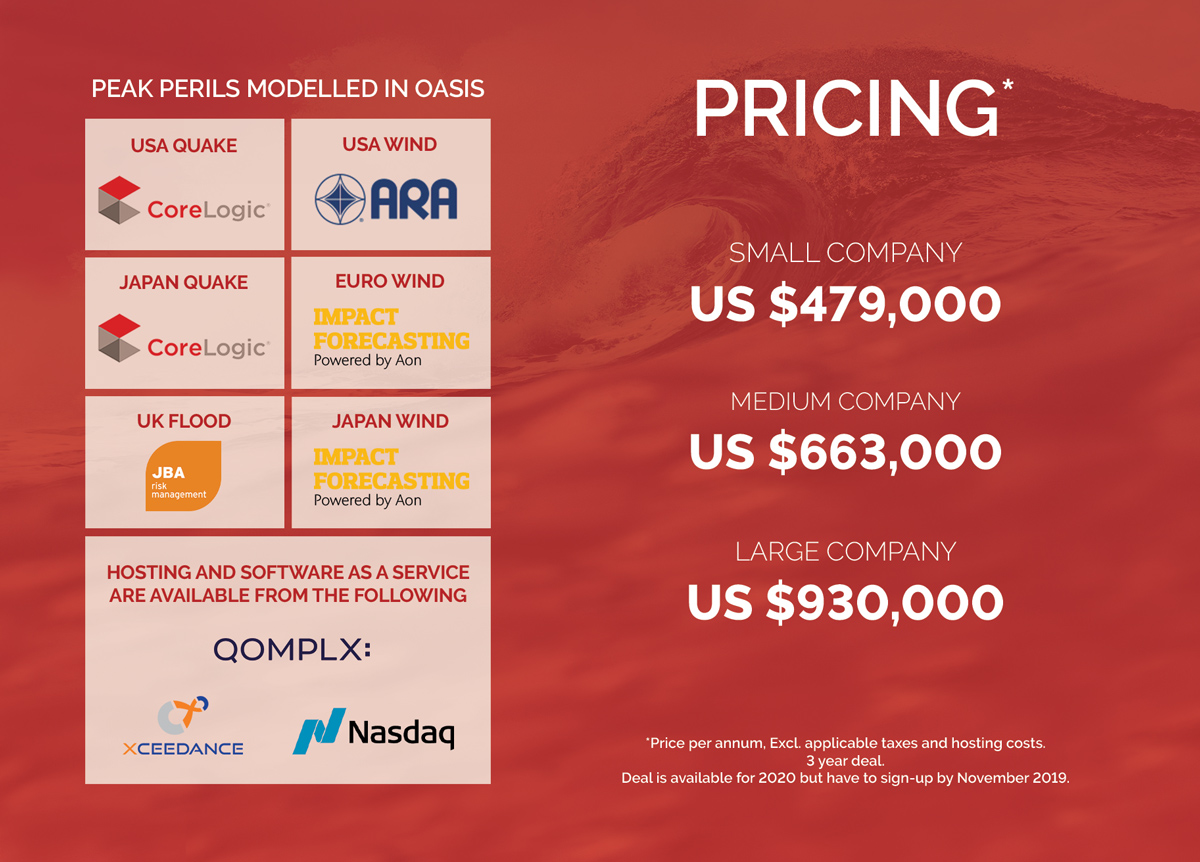 The list of supporters and participants of #TheWave is growing, be part of it.

To join and find out more, please visit our website here.
---
NEWS JUST OUT
Financial Module Lloyd's Lab Cohort 3
We are pleased to announce that we will be taking part in the Lloyd's Lab Cohort3 - the global (re)insurance market's innovation accelerator.
Lloyd's has recently committed to expanding the scope of the Lloyd's Lab as part of its bold new strategy for the future. The eleven successful teams will begin working in the Lab as part of a ten-week programme that kicks off on Monday 2nd September.
The start-ups are focused fully on finding solutions with the potential to contribute to the ecosystem of services as part of the future at Lloyd's vision. This includes ways to enhance data sharing and provide new sources of risk insight; pricing and risk models to help Lloyd's market participants better understand threat scenarios; and ways to reduce the cost of processing claims as well as the burden of compliance and regulation. The Oasis team has over 30 partners and mentors that are focused on interoperability and model choice. Do get in touch if you want to know more.
Congratulations to the other ten teams who were selected!
More information here.
The Future Danube Model
The Oasis team and our partners are very focused on getting some practical catastrophe models to help understand climate change. We are working with Adam Sobel and his team at Columbia University and have been engaging with the Potsdam Institute on a new model for the Danube basis that includes explicit climate signals.
The Future Danube Model (FDM) is a catastrophe model compliant with both insurance industry standards and climate science best practices. In its core, it provides risk and damage information for fluvial flooding for the entire Danube Basin and pluvial flooding for selected cities in the Danube Basin for the past, present and future.
A unique feature is the use of climate change scenarios to provide risk information for the present (2006-2035) and two future climate periods (2020-2049, 2070-2099) allowing analyses of risk with regards to the baseline period (1970-1999). The model was co-designed and co-validated by the Potsdam Institute of Climate Impact Research (PIK), the German Centre for Geoscience (GFZ) and the Technical University of Denmark (DTU) and Imperial College London, in collaboration with a number of partners from the insurance industry.
The model was recently implemented in OasisLMF and a first version will be released on the OasisHub in September 2019. It will be further reviewed and validated by the insurance industry with updated versions planned in the first half of 2020.
IKI Update - Climate and Catastrophe Risk Assessment in Asia
The 'Oasis Platform for Climate and Catastrophe Risk Assessment in Asia project' is co-developing new and open catastrophe risk models for flood in the Philippines and cyclone in Bangladesh and analysing the impacts of climate change.
The models are being developed on the open-source Oasis Loss Modelling platform. The project is supported by the International Climate Initiative (IKI) of the German Federal Ministry for the Environment, Nature Conservation and Nuclear Safety (BMU), bringing together a multinational public-private partnership to build solutions to understand and manage the increasing costs of disasters.

A key goal of the project is linking in-country scientific expertise and data with international expertise in catastrophe risk modelling to build capacity in the country for catastrophe and climate risk modelling and analysis. This will develop the ability in each country to maintain and develop new risk models using open-source technology and to take ownership of their risk understanding in the long term.
The full project update can be accessed via our website here.
Insurance Development Forum Progress
As many of you are aware, there are a couple of key projects that are being run by the Insurance Development Forum (IDF) and Risk Modelling Steering Group (RMSG) that we are very supportive of. The first is the 'interoperability project' to create an industry-owned platform-independent exposure data standard and open-source toolkits to convert between different platform formats. The first open-source conversion tool between AIR CEDE and OED formats has just been release here. More work is continuing to extend this work.

The second, the 'global risk modelling appliance plans' to fill model and perils gaps around the world on Oasis.
---
SPOTLIGHT ON:

Oasis LMF and QOMPLX - Enabling Expert Risk Management with Q:INSURANCE
The insurance industry, fully understanding of the need to move away from some of its archaic and cost-laden processes, is searching for technological advances and broader access to data, automation, and risk intelligence. A key aspect of this effort is the elimination of menial and redundant work still done by underwriters to enable superior focus on critical decision-making and increased ability to source and shape a portfolio of risks.
This teaming between humans and machine-systems is where QOMPLX excels. It's catastrophic risk modeling and underwriting tools are ushering in this new paradigm within the insurance ecosystem – supporting simplified and streamlined daily operational activities using embedded analytics and rules on top of a scalable and secure decision platform. Unifying data and integrating decisions across previously disconnected siloes is critical to evolve the risk management capabilities of the industry.
QOMPLX (formerly Fractal Industries) is committed to simplifying operational challenges tied to integrating, contextualizing, and analyzing data at scale. The practical core solution is known as QOMPLX:OS, an operating system that supports customizable decision platforms used for data analytics and transformation. This petabyte scale data fabric can account for multiple sources of data and supports near real-time, streaming and batch processing actions via a unified data infrastructure with specialized data models, algorithms, risk modeling and underwriting tools carefully curated to support common insurance use cases.
Q:INSURANCE supports users and teams in creating and managing multiple datasets and models, even allowing drag-and-drop connections between "stages" using advanced dataorchestration technologies and leverages combinations of rules, statistics, machine learning and even agent-based modeling to improve risk assessment throughout the policy life cycle. User-defined rules, algorithms and data flows can be seamlessly updated and automatically redeployed, simplifying and streamlining organisation's ability to rapidly instantiate and change.
The data integration capabilities within the broader platform occurs allows for powerful insights and quick incorporation of new data sets to improve underwriting decisioning. API-driven underwriting decisions, with adjustably automatable workflows, can enable rapid price, quote, and bind actions that have previously limited customer experience and efficiency can be produced within minutes or seconds.
This past June, QOMPLX announced its upcoming support for the Oasis LMF compatible catastrophe models on the Q:INSURANCE platform, providing greater ability for users to understand, model, manage and transfer risk. Model developers will be able to more easily bring their solutions to the market and benefit from the enterprise grade technology, operations, and security of the QOMPLX platform. In addition to model execution, the platform supports integration of multiple models and sensitivity analysis, expanding the usefulness of catastrophe modeling across a broader set of applications within insurance, reinsurance or retrocession. QOMPLX platform support for Oasis LMF will be broadly available in Q1 2020 with select partner use and refinement in 2019.
QOMPLX's support for the growing Oasis LMF community is part of the strategic commitment of the QOMPLX team to the general availability, quality, and usability of catastrophe models to enhance risk assessment and management. Expanding the use of risk modeling from periodic assessments to become part of decision-making on a regular basis is critical to the maturity of risk analysis and prediction of loss for an entire book of business. Previously, the high price of some models and the 'black box' approach to the fundamental science and assumptions contained within, detracted from their broader use and contributed to poor accuracy of model results to actual loss events. Furthermore, smaller territories with low insurance penetration and lower insured exposures have not benefited from the more robust data and modelling efforts from proprietary model vendors in major peak perils.
The Q:INSURANCE platform supports the creation, management and utilization of Oasis LMF models in a simple and flexible web-based GUI, delivered exclusively as a SaaS solution. Oasis LMF users can also opt-in to additional QOMPLX data and analytic services to enrich and clean input data or results with robust integration and orchestration. The expansive analytic platform offerings include real-time aggregation tools, data enrichment, high-powered query and reporting/dashboard functionality. Demonstrating confidence in the platform and the ability to support expert risk management capabilities, QOMPLX has already launched an MGA based on Q:INSURANCE which leverages proprietary cyber and terrorism modeling capabilities. The offering, known as WonderCover, is initially being offered in the UK and provides a simple fixed indemnity offering designed to cover multiple man-made perils. Another Q:INSURANCE platform user, POP Insurance Holdings, headquartered in Sydney, Australia, is now coming to market leveraging a different configuration of the same platform for their specialty lines to add efficiency and scalability to the overall underwriting process.
There is no doubt that modeling, particularly catastrophe modeling, needs to be more effectively incorporated into the overall underwriting and risk management process. The availability of additional peril models on the Q:INSURANCE platform is a step in the right direction. The Q:Insurance approach is particularly beneficial in simplifying usability for interaction with the Oasis LMF models and allow for developers to more quickly bring their modeling solutions to the market with availability in a SaaS solution. QOMPLX is proud to support the Oasis LMF led movement to support transparency and availability of catastrophe modeling which will fundamentally drive positive change.
---
UPCOMING INDUSTRY EVENTS
Les Rendez-Vous de Septembre
7 – 12 September 2019 in Monte Carlo, France
Dickie Whitaker, our Chief Executive, will be attending the 63rd edition of the 'Rendez-Vous de Septembre'. The event will take place in Monte Carlo from 7-12 September.
Arrange a meeting: Julia.arevalo@oasislmf.org.
8th European Windstorm Workshop
28 – 30 October 2019 in Birmingham, UK
From the first meeting in 2011 the European windstorm workshop has brought together dynamical meteorologists, climatologists, statisticians, stakeholders and risk model developers from insurance and engineering consultant companies. These interdisciplinary workshops have helped bridge state-of-the-art breakthroughs in science as regards to the practical implementation of risk modelling.
More information and to register.
Coping with Climate Risk - 15th International Conference on Inclusive Insurance
5 - 7 November 2019 in Dhaka, Bangladesh

Dickie Whitaker and Claire Souch will be joining approximately 450 experts from around the world to discuss and identify ways of accelerating growth and economic viability in inclusive insurance for emerging markets. The conference will be hosted in cooperation with the Bangladesh Insurance Association (BIA) and the Microinsurance Network.
More information and to register.
RAA Cat Risk Management Conference
25 – 27 February 2019 in Orlando, Florida

Oasis will be attending and sponsoring the RAA Catastrophe Risk Management Conference.
This conference will examine the rapidly changing landscape of cat risk management, focusing on how these new tools will be used in conjunction with existing tools to transform the process of risk evaluation.

Arrange a meeting: Julia.arevalo@oasislmf.org

More information and to register.
---