User Interface
The Oasis UI has been significantly upgraded and improved over the last few months and is now available to use on the Oasis platform. Its intuitive and clean feel focuses on simplicity for all aspects of the catastrophe modelling process which should resonate with multiple users across sectors. In addition to typical cat modelling processes and analytics within the (re)insurance markets, Oasis foresees the UI to be a valuable front-end for analytical projects within the public sector across the globe where cat modelling may not be familiar. Projects such as those conducted by the IDF, for example, will be able to utilise the UI for their analytics and provide the local authorities with training and simple access to the models and tools. Key features of the UI are:
Simple importing and exporting of exposure and results data in Open Exposure Data (OED) and Open Results Data (ORD) format.
The ability to present exposure data and location-level loss data visually on a map.
Easy access to all technical modelling files including metafiles.
Access to multiple vendor models in one place.
Extensive suite of customised output plots and reports without the need to query back-end databases.
Demonstration videos of the UI are available on our YouTube channel.
Exposure and Results Data Standards
The ORD Standard was developed as a result of a collaborative project involving Managing Agents, Brokers, (Re)Insurance companies, Risk Modelling Vendors and Third-Party Providers during the Lloyd's of London Cohort 3 Innovation Lab in Q's 3/4, 2019. The OED Standard arose from the lack of industry standard for Oasis LMF-based models. Both OED and ORD were intended to assist with solving interoperability problems current in the insurance market, where implementing a model-developer-independent exposure data and results repositories will assist in creating choice in the use of catastrophe models and analytical tools.
To continue to allow for the evolution of OED and ORD, and adoption by (re)insurance market stakeholders, a Steering Committee, formed of industry experts, will agree on the governance and curation of both standards in the future.
What will we do on standards?
Oasis currently supports the OED format for exposure data and will add support for ORD for results reporting as part of the development work in 2020. ORD will be based on the design work that was carried out as part of the Lloyd's Lab Cohort 3. In addition, Oasis will help to curate these open data standards via a public GitHub repository alongside tools for validation and interoperability that will help drive the use and adoption of these standards in the market..
Step Policies
The February Oasis release will include support for a wide range of Japan step policies. Using the OED format, users will be able to enter a theoretically unlimited number of policy steps (though the maximum we know about is eight!) featuring monetary or percentage of TIV triggers, and payouts including a percentage of TIV, percentage of loss, percentage of limit or a fixed amount. Japan step policies often include conditional payouts for other coverages based on the primary coverage payout, such as extra expenses and debris removal, which will also be supported.

Top Tip
The Oasislmf command-line interface allows users to test policy financial structures using fixed damage ratio scenarios independently of a model. Simply install the oasislmf python package and run "oasislmf exposure run -s (path)", pointing to a folder containing OED location and account csv files.
Machine Learning
Oasis LMF is amongst many collaborators across sectors, working on an Innovate UK, government-funded project led by Regulaition, a RegTech/LawTech start-up that was awarded the funding at the end of 2019.

Regulaition has developed the RegNet platform that combines multiple technologies to create secure, privacy-preserving data access and a data collaboration network for regulated sectors. The RegNet platform will power the global development of ethical AI, providing the technology infrastructure for scalable, automated, repeatable, and responsible data-access that upholds the strict guidelines around sensitivity and confidentiality.

Machine-learning technology has taken significant steps forward in recent years, improving efficiency across multiple sectors, and the insurance market is no exception. Oasis foresees the huge benefit a technology like the RegNet platform can bring; significantly improving the way the market captures and stores data from multiple sources, locations and across sectors.

Regulaition is keen to expand their collaborative scope by welcoming new partners to the project, ensuring it has a positive impact on the wider community. Oasis is looking forward to cooperating on this project throughout 2020.

For more information on the RegNet Project please contact Oasis.
Forum for Change
Forum for change initial meeting in New York November 2019

Last November an industry workshop entitled Forum for Change was held in New York. A broad range of senior risk and cat management representatives were there to discuss a number of issues including, inefficiency in data completeness, challenges in multi-modelling approaches and data standards. With an emphasis on the North American segment, a number of workstreams have been established that will look at ways to address these issues to ensure we all benefit from greater efficiency and choice in how we conduct exposure management.
Partner News - Spotlight on: Fathom
Fathom research identifies significant underestimation of US Flood exposures
It is well documented that Climate change presents a great and growing threat to lives and livelihoods the world over.
While we are pretty sure that the intensity and magnitude of flooding will increase in more places than it will decrease, the overwhelming driver of both historic and expected future increased flood losses relates to development patterns. As populations inhabiting flood-prone areas continue to grow – regardless of the impact of climate change – so too will flood losses. Using US government projections of development patterns, our research suggests US flood exposure could almost double by the end of the century. We also found population growth will not only increase in developed areas but accelerate. Our findings suggest the already crippling problem of flood risk will simply get worse in the US.
The research has shown that the tools with which flood risk has historically been managed in the US substantially underestimate the scale of the problem. FEMA flood maps of the so-called 100-year floodplain are the principal source of information for US flood risk. Yet, by virtue of their dated and inconsistent coverage, particular of smaller rivers, we find these maps underestimate the number of people at risk of flooding by two-thirds: that is, based on FEMA flood maps 13 million people are exposed to a 100-year flood, while Fathom's total-coverage flood maps suggest the real figure is 41million1.
Figures 1 and 2 below demonstrate the contrast between FEMA coverage and Fathom coverage for US flood.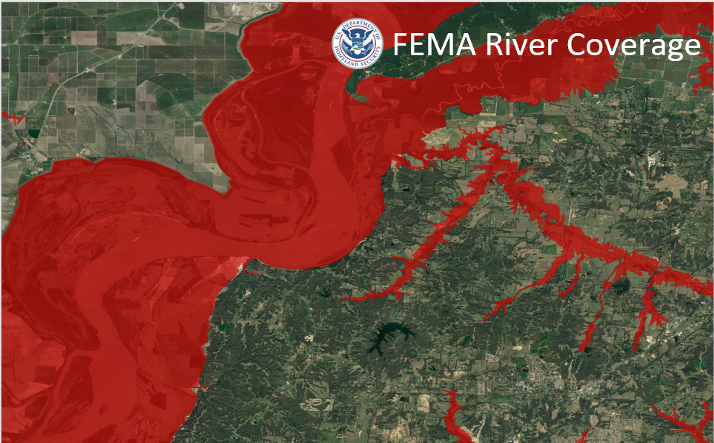 Figure 1 - Standard FEMA Coverage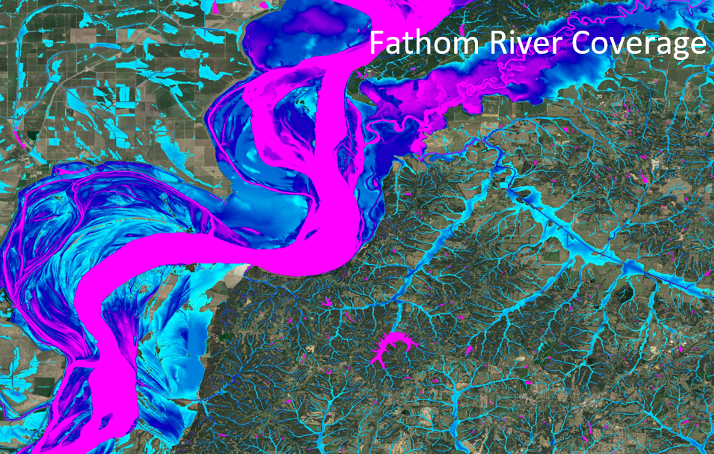 Figure 2 - Standard Fathom Coverage
Over one-quarter of all historic insurance claims have been made outside of FEMA flood zones and, in hurricane-prone areas, such as the Texas Gulf coast, this figure can be as high as three-quarters. Around 60,000 people are situated in FEMA floodplains in the wider Houston area, yet millions were inundated here during Hurricane Harvey in 2017. There is growing recognition, then, that traditional approaches to understanding flood risk at large scales are not fit for purpose preventing insurers from confidently expanding their flood exposure in the growing private flood market.
However scientific developments pioneered by Fathom in recent years have produced consistent and comprehensive flood hazard data for the US which permits a much more nuanced view of risk than with the traditional, arbitrary, in or out single 100-year return period event simulated by FEMA.
With Fathom flood risk maps Insurers can now achieve a much more informed, competitive view of flood risk across the US to support their pricing and underwriting decisions.
Being driven to challenge the status quo through academic research Fathom have developed their CAT model for the US-based on the award-winning science of their flood risk maps2. Combining the property vulnerability data from over 1million NFIP claims with a 10,000-year event catalogue Fathom-US CAT provides a new or alternative perspective for insurers seeking to understand flood losses across their US accounts and portfolios.
Fathom are unique in that their flood methodology and model validation3 is all peer-reviewed and published in the leading scientific journals, allowing insurers and reinsurers to really delve into the science and understand how the models work. This transparency is critical if the insurance sector is to fully embrace new models and help them adapt to new opportunities opening up in the private US flood market.
To enable straightforward adoption of Fathom-US CAT it has been developed to run in the Oasis LMF and is now available live on Oasis platform.
References
1. Estimates of present and future flood risk in the conterminous United States
A collaboration with the US EPA and The Nature Conservancy to show that: a) previous estimates have significantly underestimated exposure of US population to flood risk; and b) that population and GDP growth are likely to cause this to further increase in future.
Wing, O., Bates, P., Smith, A., Sampson, C., Johnson, K., Fargione, J., Morefield, P. 2018.
2. Validation of a 30 m resolution flood hazard model of the conterminous United States
The first peer-reviewed validation of a continental-scale, high-resolution flood hazard model; this paper won the prestigious AGU Editors' Choice Award in 2018.
Wing, O., Bates, P., Sampson, C., Smith, A., Johnson, K., Erickson, T. 2017.
3. The spatial dependence of flood hazard and risk in the USA
A paper describing our method for simulating the spatial dependence of realistic flood events across the USA.
Quinn, N., Bates, P., Neal, J., Smith, A., Wing, O., Sampson, C., Smith, J., Heffernan, J. 2019.
*** WINNER ***
Congratulations to the team at Fathom for winning the "Best piece of research / evaluation / validation in the last year" award at the first London Catastrophe Modelling Awards 2020, sponsored by Oasis LMF and presented by Dickie Whitaker.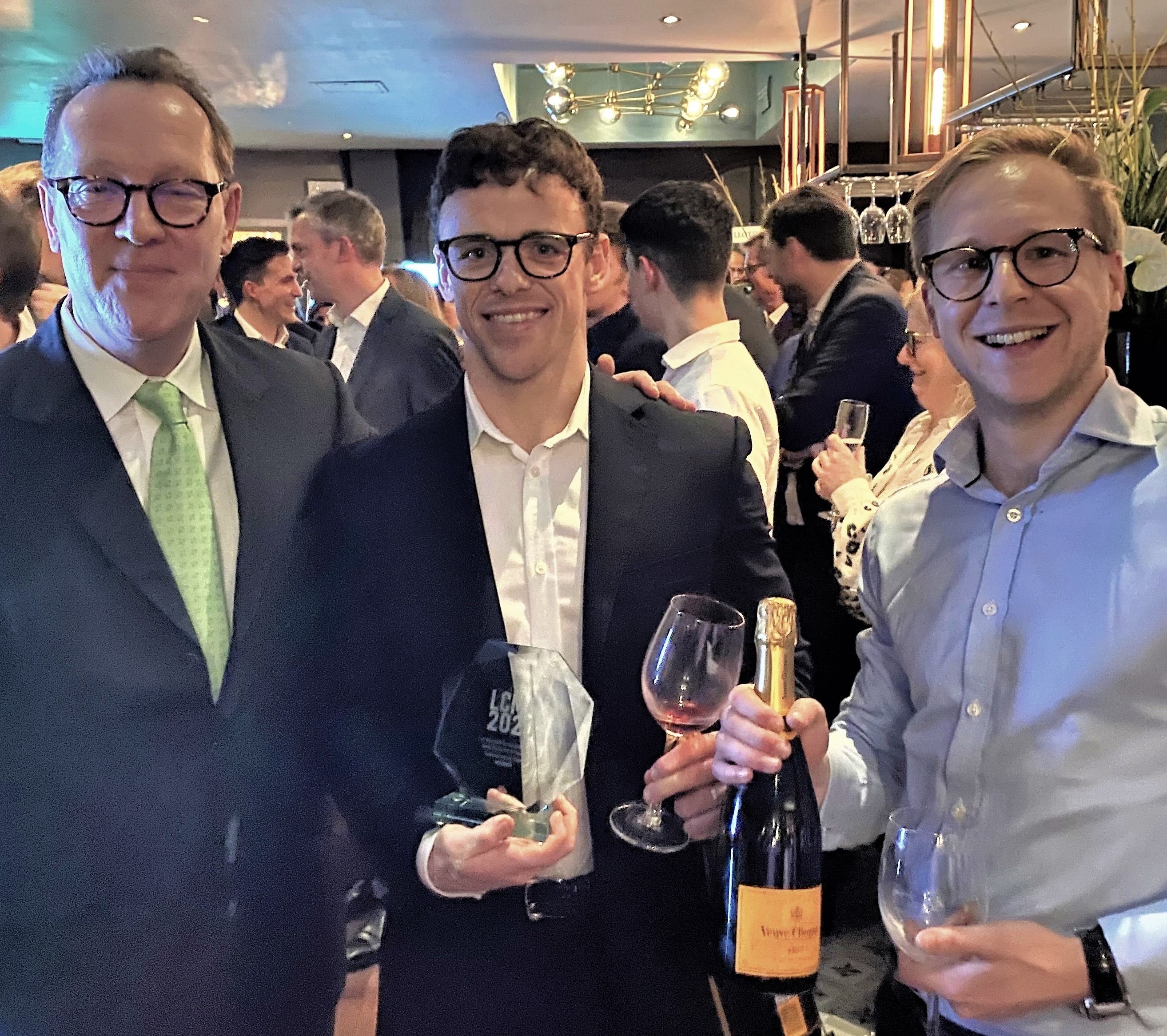 Upcoming Industry Events
See here.