Open Data Standards
In our last newsletter, we provided some background on the Open Exposure Data ("OED") and Open Results Data ("ORD") Standards. We explained that a Steering Committee, comprised of industry experts, had been formed to agree on the governance and curation of both standards for the future. The Steering Committee has been expanded to include more representatives of the industry, including brokers, model developers, service providers as well as insurance and reinsurance stakeholders. Two meetings have now been held, with broad agreement on future governance and the curation of OED/ORD. The SteerCo agreed that membership should evolve over time to include Subject Matter Experts to assist with areas requiring specific domain experience, including data validation and support for enhancing and automating the interoperability of these standards. The SteerCo agreed to the name Open Data Standards (ODS) to capture the full remit of the initiative.

During Q2/2020, with the support of Nasdaq, the OED repository has now been migrated to Oasis Loss Modelling Framework and can still be accessed via GitHub at the new address. The existing documentation for OED has been captured and will be enhanced to make it easier to use within the GitHub framework. Version control, communication and support for OED will continue to evolve and more details together, with any updates, will be curated using GitHub. This will ensure that version history will be accessible for all stakeholders and the power of this platform for collaborative work will continue.

Open Data Standards are key to ensuring continued transparency and are fundamental to improving interoperability that will increase efficiency for the market, reduce costs, and enable greater choice in the use of catastrophe models.
Project Upate - Use of Oasis in the Philippines and Bangladesh
Work is continuing on the Oasis Platform for Climate and Catastrophe Risk Assessment in Asia project, which has now entered its final year. The project is co-developing new open catastrophe risk models for flood in the Philippines and cyclone in Bangladesh. Launched in June 2018, the project is supported by the International Climate Initiative (IKI) of the German Federal Ministry for the Environment, Nature Conservation and Nuclear Safety (BMU). Having been focused on data gathering, field-visits to sites of recent cyclones, and technical development work, we are in the process of calibrating the models with local data from the in-country universities and national agency partners. We have also completed several multi-day capacity building workshops on catastrophe risk modelling and climate impact assessment. As we move through 2020, the focus will shift towards capacity building and implementing the output into policy and decision making. Due to the outbreak of COVID-19, we are increasing the amount of online training, and are conducting a series of webinars through April to June for 100+ participants from across the private sector, academia, public agencies, and local and national government. All the material from our in-country workshops and webinars are being made openly available via Dropbox. Data from the project is being released on the Oasis Hub, and more will be added in the coming weeks.

The project is reaching its successful conclusion as developments in climate risk insurance continue to expand along with recognition of the need for open data to make such schemes work at the core of many of the commitments. In September 2019 at the UN Climate Action Summit, the United Nations Development Program (UNDP), the German Federal Ministry for Economic Cooperation and Development (BMZ), the U.K. Department for International Development (DfID) and the Insurance Development Forum (IDF) announced commitments to increase insurance protection in climate-exposed countries in line with the InsuResilience Vision 2025 goals to support up to 20 particularly poor and vulnerable countries through better data and technical assistance and the expansion of insurance specifically for poor people. In November 2019, the World Bank Treasury issued a catastrophe bond (cat bond) to insure the Philippines against earthquakes and tropical cyclones for three years with insurance coverage of a maximum of US$225 million – the first sponsored by an Asian sovereign and listed on an Asian exchange. In addition, at the 15th International Conference on Inclusive Insurance for Emerging Markets - Coping with Climate Risk held in Dhaka, Bangladesh in November 2019, the Prime Minister of Bangladesh Sheikh Hasina supported the introduction of micro insurance schemes to tackle the risks of climate change to benefit people of lower-income groups affected by natural calamities.
More information on the project can be found here.


London Resilience Week
In their inaugural report launched in September 2019, the Global Commission on Adaptation sought to inspire leadership on resilience from Heads of State, Governments, Mayors of cities, and the business community. In response, the UK's Department for International Trade is to host the Global Resilience Summit 2020, to be held virtually between 16th – 19th June 2020.
The Mexican government will be engaged in this with many others and Oasis is keen to display one of its key roles to act as an interface between Science, Government and (Re)Insurance.


Partner News: Spotlight on ERN
Deployment of ERN Models on Oasis Loss Modelling Framework

For more than 20 years, ERN has developed high-quality catastrophe models covering different perils. Although initially these were developed for Mexico, their geographical coverage has expanded in the past years keeping high standards in their development and continuous update to provide effective and robust solutions to insurance companies and governments. In addition to providing practical solutions to regions of the world with large tradition in the modelling industry, special focus has been made on developing countries where insurance opportunities are on the increase and for which in many cases no robust risk models are available.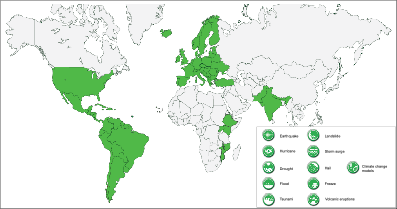 Overall geographical coverage of ERN's models
During the Mexico Day held at Lloyds in March 2020, participants discussed what a good opportunity would be to deploy FONDEN's data into Oasis Loss Modelling Framework (Oasis). The model that supports FONDEN was developed by UNAM and ERN, mainly for earthquakes and tropical cyclones, and has been used for sovereign risk management for more than 10 years.
A key component of ERN models is their flexible architecture, meaning that their integration with other platforms can be smoothly achieved as has been the case with Oasis. For instance, the Pan-European earthquake model (developed in association with RED), includes Turkey and was the first complex model to be fully integrated within Oasis, achieving an excellent congruence between the native and the open-source platforms. This model makes use of the most updated understanding of earthquake hazard in Europe, together with a state-of-the-art industrial exposure database and a set of vulnerability functions that can reflect the particularities of more than 40 countries in the region. Besides this, the Latin America and Caribbean earthquake model has been also made available in Oasis, being the first of its kind guaranteeing consistency in the approach, resolution level, data and methodology from Mexico to Chile and providing earthquake hazard and risk data for 45 countries in the region. Detailed micro-zonation studies are implemented in this model for the largest urban centers in the region, being these critical data for high resolution assessments. All the components of the models have been also validated with historical events.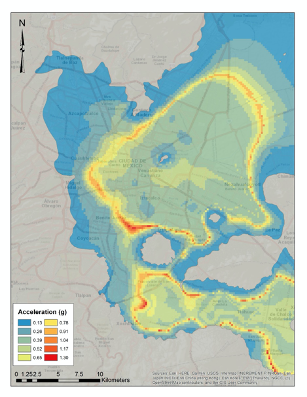 Earthquake hazard map for Mexico City considering local site-effects
The implementation of ERN models in Oasis has followed a comprehensive validation stage, keeping results and modelling criterion consistent with ERN's native platform. ERN also plans to deploy additional models on Oasis although upon request, any of ERN models (or their components) can be quickly implemented to Oasis.

For any additional information about ERN's models, please contact:
Mario A. Salgado
mario.salgado@ern.com.mx
+52(55) 5616-8161, 62, 64


Oasis Conference 2020
With the health and well-being of participants at the forefront of our minds, we have made the decision to hold a virtual conference in the form of a series of webinars. Both conferences, London and Zurich, will be merged into one event.

A separate note with more information will be sent to you on Monday, 1st June.
We will also keep our events page up to date.